Easy Korean Recipes
Whether you're on Netflix or Viu, there are so many Kdramas to choose from for your next binge. Apart from entertainment, however, Kdramas are also amazing at exposing us to Korean food and culture.
If you're feeling inspired to whip up some Korean dishes after binge-watching your favourite Kdrama (Squid Game, anyone?), read on to find out how to create them. !
1. Korean Fried Chicken – The King: Eternal Monarch
The King was a highly anticipated romantic-fantasy Netflix series as it was starring Lee Min Ho (as Lee Gon) with this being his first appearance back in the drama scene since he finished military service. In the drama, Lee Gon was obsessed with Korean Fried Chicken.
 Source: Giphy – The Swoon
The secret? It lies with double frying it! Double frying makes the chicken extra crispy,even after coating it with delicious sauce. In true Meatmen fashion, we also use different flavours like garlic, soy sauce, rice syrup, dried chillies and honey mustard to create the ultimate sweet, savoury and sticky sauce. Pair it with a glass of cold beer for the ultimate Lee Min Ho experience.
Recipe: https://themeatmen.sg/korean-fried-chicken-2/
Preparation Time: 45 minutes. Serves 4. 
2. Jjapaguri with Steak – Parasite
Parasite is the Oscar-Winning Asian Film that quickly became the pride of Asians around the world, and what really caught our eye was the Jjapaguri with Steak, also known as Ram Don.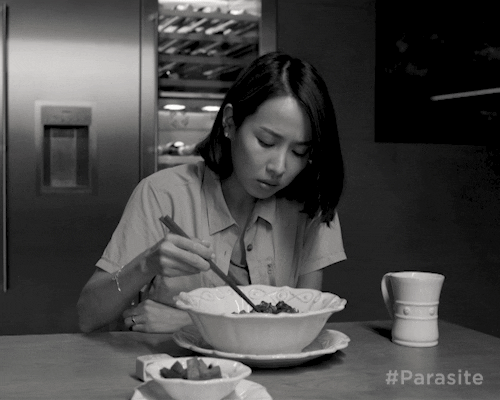 Source: Giphy – Madman Films
This simple Korean recipe is essentially made from the mixture of Chapagetti and Neoguri, two different types of instant noodles topped with Korean Beef. In the movie, they use premium steak, but you don't have to blow that kind of money to enjoy our version. Here is our take on Jjapaguri with Steak, daebak!
Recipe: https://themeatmen.sg/jjapaguri-with-steak/
Preparation Time: 15 minutes. Serves 2. 
3. Jajangmyeon – Hi, Bye Mama
Hi, Bye Mama! is a heartwarming, family television series starring Kim Tae Hee (as Cha Yu Ri) as she finally turned back to being 'human' after dying from a car accident. As she wasn't able to eat as a ghost for many years, she had a huge mukbang which featured a large decadent bowl of Jajangmyeon.
Source: Giphy – The Swoon
The recipe includes a few easy-to-get vegetables and is often enjoyed in front of the television with loved ones on K-dramas. The rich black bean sauce is coated over chewy Jjang noodles and spiked with flavour-bursting bites of pork belly. Read how our writer tried this recipe with her dad here.
Recipe: https://themeatmen.sg/jajangmyeon/
Preparation Time: 45 minutes.
4. Bibimbap – Strong Woman, Do Bong Soon
Strong Woman, Do Bong Soon is one stereotype breaking drama starring Park Bo Young (as Do Bong Soon) where she possesses supernatural strength despite being petite to be a bodyguard for the rich and haughty CEO, Ahn Min Hyuk. In the show, Min Hyuk gets hurt from protecting Bong Soon and her family showed their appreciation by gifting him a large pot of Bibimbap.
Source: Giphy – Strong Woman
This signature Korean meal is full of crunchy sauteed vegetables, savoury minced beef and spicy red bibimbap paste. It's an exciting assortment of colors, flavours and textures that you can make with readily available ingredients and some simple cooking. No better way to give a new life to those bits of leftovers in the fridge!
Recipe: https://themeatmen.sg/bibimbap/
Preparation Time: 1hour. Serves 2.
5. Korean Ginseng Chicken Soup – Descendents of the Sun
Source: Giphy – Candy Magazine
Descendants of the Sun is the drama that marked the beginning of a new romantic relationship between our beloved Song-Song couple (which has unfortunately ended since). That said, it was still one of the most popular dramas of the decade starring Song Joong Ki (as Yoo Si Jin) and Song Hye Kyo (as Kang Mo Yeon) During their fictional deployment to Uruk, Yoo Si Jin and his partner-in-crime, Seo Dae Young tried to impress their crushes by making Korean Ginseng Chicken Soup, Samgyetang. 
It's a traditional belief in Korea that Samgyetang is the best way to revitalise the body and boost the immunity system. Apart from the various medicinal benefits, this is a delicious and complete meal. The whole chicken is infused with the flavours from the ginseng root while the glutinous rice soaks up all the yummy goodness!
Recipe: https://themeatmen.sg/korean-ginseng-chicken-soup/
Preparation Time: 1hour 30 minutes. Serves 2.
6. Kimchi Tofu Soup – Itaewon Class
Heartthrob Park Seo Jun (as Park Sae Ro Yi) is back with another Netflix hit, Itaewon Class! The action-packed series revolved around how he was able to turn many unfavourable circumstances around and avenge his father's death by making his bar-restaurant, Danbam a global success. One of the key challenges he faced was perfecting the Kimchi Tofu Soup that quickly gained popularity with his customers. To fans of spicy dishes, this is one that you wouldn't want to miss!
Source: Giphy – The Swoon
Recipe: https://themeatmen.sg/kimchi-tofu-soup
Preparation Time: 30 minutes. Serves 2.
7. Bento Box – Squid Game
GIA ALLANA
If you've watched Squid Game, you'll realise that the food players get is, well, subpar at best – including this bento box that included a sunny-side up egg, kimchi and a small portion of vegetables as a side dish. And this was one of the better meals.
But for us non-players, there are plenty of ways to zhng up our own version with this classic decorative bento.
This will be a fun recipe and especially a treat for the young ones. An hour or so is all you would need to create an eye-catching meal for your kid to bring to school in a snack box. Here, we use egg sheets to delicately create the raincoat, and cut apples for a nice umbrella (sorry, Gi-hun) to match the theme.
Recipe: https://themeatmen.sg/decorative-bento/
Preparation Time: 1 hour. Serves 1.
Korean Dishes
If you're running out of ideas on what to cook next, the answer could be right on your screens! Recreate these dishes at home like your Oppas and Unnies and remember to share those moments with us on Facebook or Instagram @themeatmensg. Time to challenge yourself as you binge watch on the latest Kdrama sensation with your loved ones. Hwaiting!
—-
Some other recipes you might like:
P.S. We've got recipes for all your Singaporean and Asian favourites on our Youtube channel. Subscribe and share with your friends!
P.P.S. Can't find a recipe you like? Drop us a comment or ping us on our socials.
—-
Get cooking with us:
Facebook | Instagram | Telegram | TikTok | Pinterest